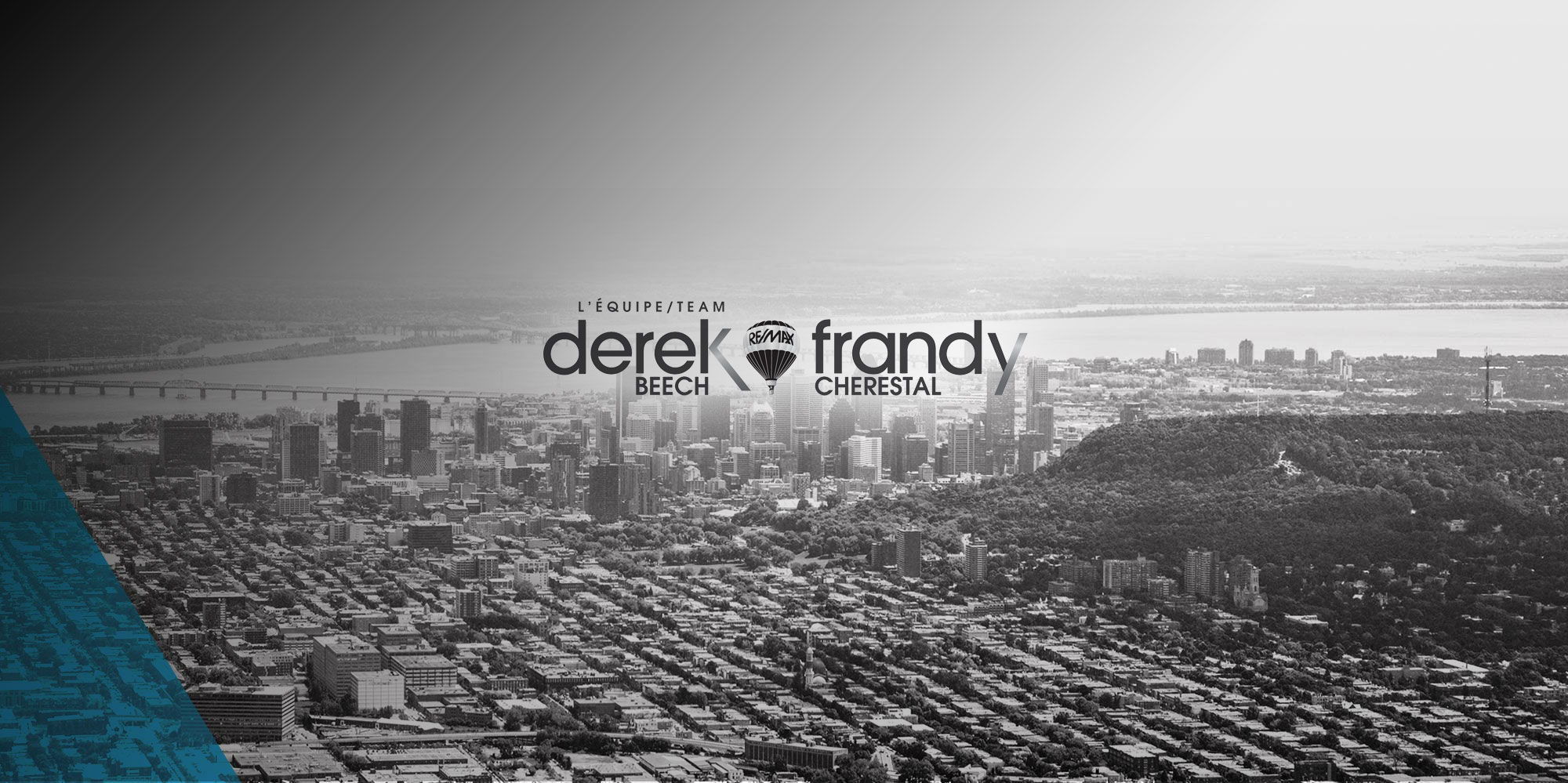 Team Derek & Frandy
Frandy Cherestal

Certified Real Estate Broker

The many Remax awards received such as Club 100%,100% Gold, Prestige and Hall of Fame awards prove one thing: Frandy Cherestal is commited towards his clients.

Since entering the real estate business in late 2007, Frandy has pursued further training in order to give his clients an unmatched quality of service and an exceptional experience. Moreover, his continuing efforts led him to be nominated as agency executive officer in the Fall 2014.

Always aiming for client gratification, Frandy offers a personalized service which meets his clients' needs. He provides them with relevant information, valuable advice, and close monitoring. Frandy believes that every property is as unique as the person he assists, so he will adapt to his clients and make sure to give them the right service that will lead them towards a successful transaction.

In addition of being professional and sympathetic, the strong focus on client satisfaction and the outgoing personality of this devoted man have proven to be the foundation of his ever growing success, which he wants to share with you, future buyers and sellers.

I look forward to meeting you!
Derek Beech

Frandy Cherestal

Hervé Fonderflick

Meryem Saci
int(2)
Featured properties
Properties that are worth seeing!
Ville-Marie (Montréal)

Apartment

$449,000

Who would like to live in this beautiful condo from 1915, historical building called "Le Château Nasso" located on a wonderful building on Sherbrooke Street?? With a 1335 square footage, you will be charmed by its great windows, good sized [...]

Read more

Ville-Marie (Montréal)

Apartment

$409,000

Modern building in the heart of downtown Montreal, welcome to the Viva Lofts on Bishop. This unit has everything to charm you! It offers an unobstructed view facing south-west and beautiful finishes in the kitchen, which makes it modern and [...]

Read more
Our listings
All the properties at a glance!
Apartment
2000 Rue Drummond
Ville-Marie (Montréal)
Apartment
411 Rue St-Dizier
Ville-Marie (Montréal)
Apartment
1451 Rue Parthenais
Ville-Marie (Montréal)
Apartment
178 Av. Trenton
Mont-Royal
Apartment
2483A Rue Park Row Est
Côte-des-Neiges/Notre-Dame-de-Grâce (Montréal)
Duplex
2483 Rue Park Row Est
Côte-des-Neiges/Notre-Dame-de-Grâce (Montréal)
Apartment
2485A Rue Park Row Est
Côte-des-Neiges/Notre-Dame-de-Grâce (Montréal)
Apartment
900 Rue Sherbrooke O.
Ville-Marie (Montréal)
Apartment
950 Rue Notre-Dame O.
Le Sud-Ouest (Montréal)
Apartment
1199 Rue Bishop
Ville-Marie (Montréal)
Apartment
2250 Rue Ward
Saint-Laurent (Montréal)
Apartment
2085 Av. Albert-Murphy
Chomedey (Laval)
Apartment
627 Rue Robert-Élie
Laval-des-Rapides (Laval)
Apartment
400 Rue de l'Inspecteur
Le Sud-Ouest (Montréal)
Apartment
98 Rue Charlotte
Ville-Marie (Montréal)
Apartment
1055 Rue St-Mathieu
Ville-Marie (Montréal)
Apartment
1340 Rue Olier
Le Sud-Ouest (Montréal)
Apartment
635 Rue St-Maurice
Ville-Marie (Montréal)
Thank you for the excellent work you did for us; my downtown condo had been on sale for more than 3 months! But once I met and agreed to list my apartment with Derek, with his dynamic attitude and his know- how, he brought several visitors within a week and within two weeks I had an accepted offer. What is different about Derek is his ability to easily communicate with both the buyer and the seller, making sure things are transparent to both; only this form of representation can lead to a win-win agreement! Thanks to you Derek!

I first listed my condo in November 2012. After 6 months with a broker, I wasn't able to get one offer. Feeling discouraged, I decided to list on a zero-commission site. Within 3 months, not only was I receiving less visits, but the profile of these buyers who came to visit were not very serious in buying. I had no-shows, last minute cancellations, and many lacked insight about market prices and neighborhoods. Derek had called me to list with him at Remax. He was confident about his service, knowledgeable about the neighborhood, and convinced me that I had undervalued my home on the zero-commission website. It took Derek less than 3 weeks to sell my home! He's worth 100% of his commission. I would recommend Derek to any, if not ALL owners out there who are actually serious about selling their home!

At first I did not want to use an real estate broker, but after trying duProprio for 3months with no success I began to rethink the idea. I tried 2 others brokers before finding Derek and he was the best choice for the job. He really worked on selling my condo and was very thorough for all the paper work and details; he gives real estate agents a good name! I would recommend him any time

Thank you so much for all your professional help. But most of all we are thankful for your personal touch that you naturally add to helping us. Best of luck, we will be contacting you again in a few years !!

Frandy is a true professional. He brings his expertise and diligence to the footsteps of what clients request of their future homes. What I appreciated most from Frandy is his out of box thinking in looking for properties and solutions around what I requested of him as my agent. He insured I was comfortable with my decision and now, I reside happily at my condo situated in the heart of the city. Thank You Frandy! I will be calling you for my next purchase.

Frandy recently acted as both my selling & buying agent. Both experiences were very satisfying & successful. His patience, professionalism & strong communication skills made it a stress-free process. I would strongly recommend working with this energetic guy!

We purchased our first home with Frandy. He was a real professional with a kind heart. All went fast and smooth thanks to him.

It was a pleasure to work with Frandy when I sold my house. His level of professionalism, energy and patience really impressed me. I would definitely work with him again in the future.

Frandy managed to sell my condo very quickly and at a great price during a period when the market was really slowing down. He was professional, efficient, optimistic and very informative. He took care of everything and I was able to fully trust him to get the job done. He is very sharp and motivated. I highly recommend him!

I purchased my home with Mr. Cherestal last year. I was amazed by his professionalism. As a first time home owner, he really made the process easy and simple. I will definitely deal with him again for any future transactions. Great work

I was introduced to Derek via my Toronto Agent and from start to finish; Derek was professional, diligent and responded always in a timely manner. He listened to the finer details when corresponding and helped us find a home we were looking for. I will not hesitate to use Derek in the future.

Since we had a bad experience with a real estate agent in the past, we were a bit reluctant to work with one, once again. When we met Derek, we had a good feeling about him and we decided to give him a chance. Throughout the time we worked together, Derek was always available, professional and transparent. He was knowledgeable, honest and sharp. He even recommended another agent to us when we wanted to look up North. Obviously he wanted to help us first and foremost. He managed to earn our confidence, which made the selling/buying process much easier! Derek is a good and trustworthy agent and we won't hesitate to hire him again in the future or to recommend him to family and friends! Merci Derek :)
Subscription confirmed
Thank you for subscribing to my monthly newsletter.